Eating Lenny's Face
Lenny Stein, Chief Legal Counsel for Splunk, was having a birthday. In celebration, cake was brought in for the legal group to enjoy, decorated with Lenny's face. This was slightly problematic, as none of the legal group could bring themselves to eat their boss's picture on the cake. Instead they opted to eat the outside, where his face was not.
The leftover cake was then brought to the March 2016 San Francisco Splunk User Group meeting, whose attendees had no such qualms, and proceeded to celebrate, drink, and consume Lenny's face. Possibly due to the sake, Russell Uman decided that these six inch buttons had to be made to commemorate the occasion.
Media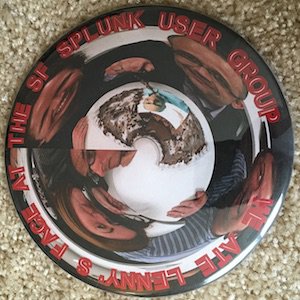 Button

Featuring: Nick Mealy, Jessie Evans, Joshua Rodman, Jesse Trucks & Sarah Moir
Contributed by Russell Uman
Contributors
---
Published:

04 July 2017

Last Modified:

28 April 2019
---
Do you have more information, corrections, and/or media related to this or other Splunk stories? Help us build the Splunk Gallery!
---