Up all night to get _____
This was a limited run shirt, created by Rachel Perkins. At .conf 2013, these shirts were given to awesome folks who were active in the Answers and IRC communities to recognize their contributions. Unlike other official splunk shirts, this one has a chalkboard on the shirt, so the wearer could write and change what they were up all night to get.
Media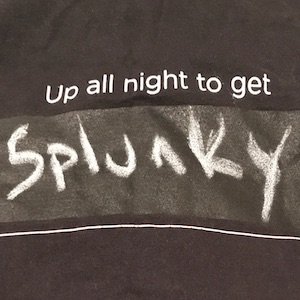 Splunky


Contributed by Kyle Smith
Contributors
Categories
Related Entries
---
Published:

12 August 2017

Last Modified:

15 July 2018
---
Do you have more information, corrections, and/or media related to this or other Splunk stories? Help us build the Splunk Gallery!
---